Discover more from Following the yuan
See China through its consumers
Over 1,000 subscribers
📈 4 observations about the one sector in China that's deflation-proof and crackdown-free (Part I) | Following the yuan
In recent months, while economic downturns and discounts dominate discussions in other consumer sectors, the conversation in the pet sector begins with pet food producer Gambol's listing in A-shares.
Writer's Note 📝: This piece is part of a series where I explore a distinct consumer vertical every quarter (my last deep dive was on coffee). The series blends my personal observations with insights from consumers and industry professionals (more of that in Part II), aiming to offer you ground-level color and analyses. 👀
---
As China experiences an economic slowdown and shifts its focus away from real estate, professionals are keenly looking for promising opportunities in the consumer sector. I am convinced that the pet industry is an emerging beacon of certainty and confidence. Spanning across food, toys, tech, and healthcare segments, it seems relatively insulated from the dwindling consumer sentiment affecting other sectors.
The rise of positive media portrayal has largely shifted Chinese consumers' perception on the role of pets at home. However, while these positive shifts are evident, the absence of regulatory measures on animal protection and the lack of established market rules could become concerns in the mid-to-long term. Nonetheless, these potential challenges are unlikely to curb industry enthusiasm in the short term. With 9 public companies in A-shares (see list at the end), the 270-billion-yuan (US$37-billion) emerging sector has huge potential.
Here are my four major observations that reflects the current industry sentiment, changing culture involving pets, the growing trend of personification, and potential market pitfalls about the pet sector that's deflation-proof and crackdown-free (for now?):
1. Unwavering confidence despite the economic downturn 💪
I recently attended Shanghai's Petfair Asia, the largest pet trade fair in Asia, which drew over 453,000 visitors, with nearly 78% being the general public. Unlike other trade shows I've attended pre, during, and post-Covid, this one buzzed with particularly enthusiastic attendees, many hauling large luggage and eagerly lining up for giveaways.
Reflecting on the fair's 25-year history, its founder and president, Zhong Gang, expressed relief that the zero-Covid policy had ended. "Last year was catastrophic," he said, recalling the abrupt cancellation of the 2022 expo in Shenzhen 10 hours before its start. "It was tough in the first 15 years, but over the past decade, I've only seen growth." This year, tech companies like Alibaba's Ele.me, Meituan, Douyin, Xiaohongshu and Bilibili were present, exploring partnerships.
The pet economy hit 270.6 billion yuan last year, growing at an average rate of 8.7%, fueled by over 70 million pet owners, according to business intelligence platform Pethadoop's 2022 report. A significant trend has been the faster growth of cat owners and spending, likely because cats are seen as low-maintenance pets, a preference given the long hours worked by Chinese professionals.
In recent months, if economic downturn and discounts lead the conversations for other consumer sectors, for pet, the conversation starts with Gambol Pet Group Co Ltd (SHE: 301498), an OEM-turned-food producer that listed in Shenzhen in mid-August. Having served companies including Wal-Mart, KKR-backed Gambol launched its own pet food brand Myfoodie 麦富迪 in 2013. This listing was frequently cited at the expo as a sign of confidence. In April, consumer-focused Jebson Group made its first acquisition in pet care and retail of Hong Kong-based ADP Group, eyeing on expansion in Greater China.
Market research company Qianzhan lists "pet" as one of the eight high-growth sectors, alongside others like coffee and tea, pre-made meals, functional foods, smart home, designer toy, beauty and personal care, and fitness. To me, the pet sector stands out in China as one of the few 'free market' areas, especially post-zero-Covid: it's still nascent with limited public companies and, thus, minimal government intervention.
2. The cultural evolution concerning pets 🧬
For those unfamiliar with recent changes, it might be surprising to see how China transitioned from a reputation for eating cats and dogs to a nation where young people seemingly prefer pets over babies—a popular media narrative (which I believe is only partially true).
The shift, I contend, owes a lot to both traditional and social media. The 2023 Chinese adaptation of "Hachiko" deeply resonated with millennials, aided by adept social media promotion, which included behind-the-scenes peeks at puppy auditions. Concurrently, a surge of content on Xiaohongshu—from sumptuous pet meals and rescue stories to pet-centric comics—has fueled this generation's shared love for furry friends. The hashtag #MyPetIsSoCute has amassed 34.7 billion views.
Businesses are tapping into this overwhelming affection to lure pet owners to open their wallets. On Shanghai's West Bund, having cafes branded as pet-friendly is a must, given its popularity with dog walkers. Juneyao Air (SHA: 603885) debuted a 6,666-yuan (~US$930) membership card for pets in 2022, allowing pet owners to book pet friendly flights over the span of 16 months while covering their fare separately. Meanwhile, Lay's China offers an eight-pack of chips that comes with a cardboard cat house.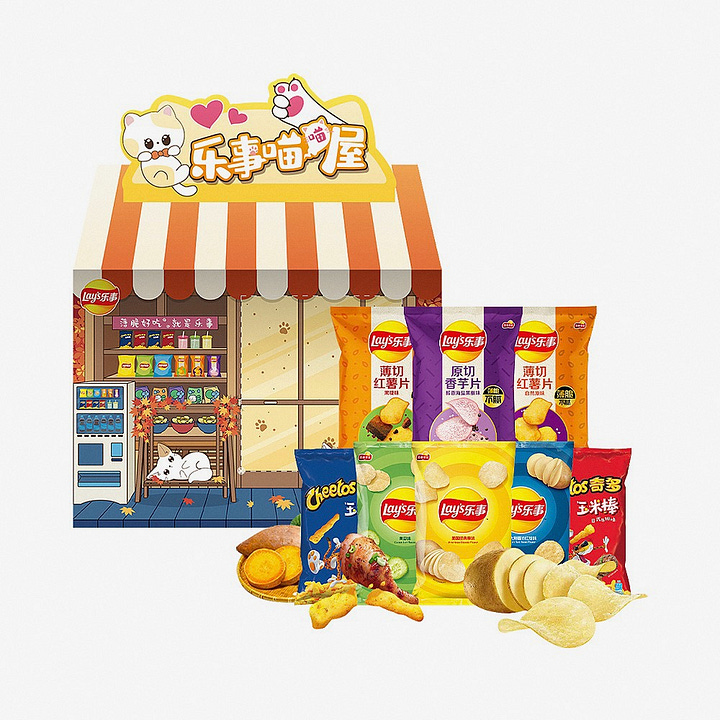 We cannot overlook the profound impact of certain distressing news events, incidents that might have been overlooked prior to the ascent of China's middle class and the advent of social media. Notably: kittens, puppies and other exotic pets were sold on e-commerce giant Pinduoduo and were often suffocated during transit, a corgi was beaten to death by a Covid worker during the Shanghai lockdown after its owner tested positive, a Shiba Inu was stolen during a walk, and with the help of mobile tracking device, the owner found his body at a dog meat stand.
Each time such events happen, the societal introspection pushes the envelope of public morals, and spotlights the contradictions different social groups' mindsets.
On one hand, there's an expanding demographic that views pets as cherished family members, while some others perceive them merely as commercial goods, a stance echoed by Chinese legislation. ⏳
*The 9 listed companies in A-Shares
Pet food producer: Gambol (SHE: 301498), Yantai China Pet Foods (SHE: 002891), Shangdong Luscious Pet Food (BJ: 832419) , Petpal Pet Nutrition Tech (SHE: 300673)
Pet goods producer: Wenzhou Yuanfei pet toy (SHE: 001222), Hangzhou Tianyuan Pet Products (SHE: 301335)
Pet care and hygiene product manufacturer: Tianjin Yiyi Hygiene (SHE: 001206)
Pet healthcare (non-primary business): Wellhope Foods (SHA: 603609), Tianjin Ringpu Bio-Tech (SHE: 300119)
---
Tune in for part II next week for the growing trend of personification, and potential market pitfalls, featuring insights from consumers and industry professionals. 👀
Do you agree with my observations? Are you bullish/bearish on China's pet sector? How is your own spending like if you are a pet owner? Leave your comments below.
Make a pledge to support my original work.
Read more: