Discover more from Following the yuan
See China through its consumers
Over 1,000 subscribers
Fashion Weekly: Behind Louis Vuitton's Chinese podcast🎙️, Istituto Marangoni's China vision 🎓, China's Lululemon acq. by Anta🧘‍♀️ | Following the yuan
ANTA Sports' acquisition of atheleisure wear Maia Active marks an end of new consumer brands' golden era in China. But what about others?
To celebrate the close of Shanghai Fashion Week, I'm doing a fashion special for *all* subscribers. If you are new to the newsletter and want to see what I usually send on Tues/Wed every week, please read a sample weekly consumer news here and my other offerings here. Now, let's dive in!
1. Behind Louis Vuitton's Chinese podcast
🎙️
What happened: Last Thursday, Louis Vuitton unveiled "its latest pop-up in Shanghai named "Nóng Hó, Shanghai" (Hello, Shanghai) near Suzhou Creek, Shanghai's oldest waterway. The one-month pop up coincides with the release of the Maison's updated version of the city guide and the debut of a Chinese podcast Louis Vuitton [Extended].
Similar to its rising popularity among brands and marketers, podcast has become a popular medium for brands to connect with high-earning, highly educated consumers in China. Based on a 2022 report released by podcast producer JustPod, which produced Louis Vuitton [Extended] for the French luxury brand, the typical Chinese podcast listener is aged between 22 and 35, predominantly lives in first-tier and new first-tier cities, with 90% holding a bachelor's degree and 40% possessing a master's.
Mirroring the French version hosted by journalist and filmmaker Loïc Prigent, the four episodes that will be released in China before Nov. 12 are hosted by Zhang Zhiqi. Zhang is known for her popular podcast "StochasticVolatility" and frequently collaborates with writers like Jin Yucheng, renowned for his work "Blossoms," one of the few pieces written in Shanghainese.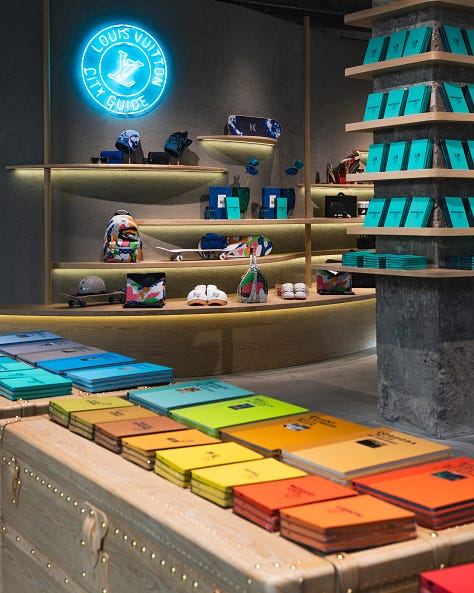 Dig deeper: "The established brands, with a long-view approach to brand-building, are more than willing to invest time in nurturing lasting bonds with their listeners," Adriana Zou, director of sales and partnership at JustPod, told Following the yuan. The Shanghai-based company that was founded in 2018 by former journalists also counts venture capital firm GGV Capital, Italian fashion brand Giada, and American apparel producer Nike, as clients.
"Brands genuinely dedicated to creating branded podcasts aren't fixated on conversion rates," she added. The two sides began the conversation over a year ago. Aside from JustPod's clients, U.S. outdoor brand Patagonia, domestic underwear brand Neiwai and domestic athleisure brand An ko Rau have all ventured into the arena.
For a market driven by rapid responses in e-commerce, where sales figures often overshadow branding, it's uncommon to target a niche audience. (China's most popular podcast platform Xiaoyuzhou 小宇宙 only had 4.5M MAU in 2022, versus the mainstream social platform Weibo that boasts an MAU of 700M this year.) Yet, this approach could prove valuable over time.
2. Top fashion school Istituto Marangoni sets example for joint programs🎓
What happened: Istituto Marangoni Shanghai was built in 2013 with the joint support of the Italian government and the Shanghai Municipal Government. It is the group's first campus outside Europe since its founding in Milan in 1935.
Amidst the global disconnect post-Covid, joint-venture education programs between China and the West are grappling with logistical, geopolitical, and recruitment challenges. However, Istituto Marangoni appears to be thriving due to its emphasis on integrating industry and academia in fashion. On the 10th anniversary of the Shanghai campus, it invited renowned fashion designer Stella McCartney to join hands with the 2023 graduates, who re-created some of the designer's pieces.
"Many international brands are happy to do collaborations with our school as they recognize the significant value of the China market," Cheng Yingting, the COO of Istituto Marangoni China and principal of the Shanghai school, told Following the yuan. "Projects like this can benefit the brand, as it can be presented in a local manner on social media to resonate more closely with Chinese consumers. At the same time, young deisgners are using their own cultural background to make impact locally."
Dig deeper: China has been emphasing on the importance of intergrating industry, academia and research 产学研一体化 for the education sector. In the space of joint education programs such as NYU Shanghai (est. 2012) and Duke Kunshan (est. 2013) — which were established in the honeymoon period of China-U.S. relations — it may become increasingly challenging for graduates to effectively integrate into local industries.
Istituto Marangoni Shanghai's approach to global connections stands out at this juncture. This is particularly noteworthy as Chinese consumers display a tendency to favor local brands, and a rising number of emerging designers are marking their return to European and U.S. fashion weeks post-Covid.
"In China, the narrative has shifted towards 'consumption downgrade', and performances across all sectors are underwhelming," Cheng said. "As a result, many buyers and brands perhaps want to explore the other markets for now. This is just a natural progression."
"Though, I believe that ultimately, consumption in China might still outpace that of Europe or the U.S," she added.
3. China's Lululemon acq. by Anta 🧘‍♀️
What happened: Last Friday, China's sports giant Anta Sports Products (2020.HK) agreed to purchase 75.13% equity interests in the Shanghai-based company that owns yoga wear Maia Active through an indirect subsidiary.
Founded in 2016, Maia Active rides on the wave of Chinese female consumers' rising spending power while filling the 'blue ocean' of Lululemon (which entered China in 2013) and unnamed Taobao sellers.
Drawing parallels to Lululemon, Maia Active tapped into the burgeoning yoga community for initial product testing and seeding. It emerged as an affordable alternative to Lululemon's offerings, with prices typically about one-third lower.
The athleisure brand last bagged nearly 100 million yuan (US$13.7 million) in a series C round in December 2021 from domestic retail giant Belle International, and reported annual sales of 500 million yuan in the following year. Prior investors in the company include notable names like Sequoia China and China Growth Capital.
Dig deeper: Founded in the golden era of Chinese new consumer brands, Maia Active took four rounds (incl. a pre-A) from VCs. But this is probably the best ending for the brand, as the current market does not present as many financing opportunities, especially for consumer brands.
The acquisition follows Maia Active's marketing misstep this March for International Women's Day, which is seen offensive by its core users, and some shared their return receipts after the event. It is unclear how badly it has affected its branding and sales.
Perhaps a more obvious conclusion is that it's a good deal for Anta, which has bet well on the multi-brand strategy and the rise of niche sports by buying Italian brand Fila in 2009 and acquiring Finland's Amer Sports in 2018 (which owns outdoor brands Arc'teryx and Salomon).
Over the past four years, Anta Group's strategy to diversify its portfolio has come to fruition, with non-Anta brands transitioning from a minority to a majority in terms of revenue. As per Anta's interim 2023 annual report, these non-Anta brands accounted for 52.2% of the group's total revenue. 🔚
Following the yuan is a reader-supported publication. To receive new posts and support my work, consider becoming a free or paid subscriber.