Discover more from Following the yuan
See China through its consumers
Over 1,000 subscribers
Week #26: money-pinching becomes trendy 🤑, Starbucks' new opportunities (not mooncakes 🥮), 5th Gen filmmakers go rouge 🇨🇳| Following the yuan
Starbucks China staff are getting increased pressure to sell mooncakes that few desire, and it's become the butt of jokes.
As you probably know, last week was mooncake festival in China (though regular folks call it mid-autumn). As I've been swamped by mooncakes of all kinds of flavors across China — gifts and re-gifts alike to the family — while being jealous of one particular food blogger, Wayne, who received 45 gift sets from various brands and showcased them all.
While it's quite standard to see entries from high-end hotels like Waldorf Astoria and Bulgari, as they also target those who appreciate fine-dining and quality lifestyle, like his fans do. There's a few other brands that stand out — including cognac producer Rémy Martin, domestic liquor brand Shui Jin Fang, also Beijing-based Taikang Life Insurance — that traditionally cater to a more mature audience.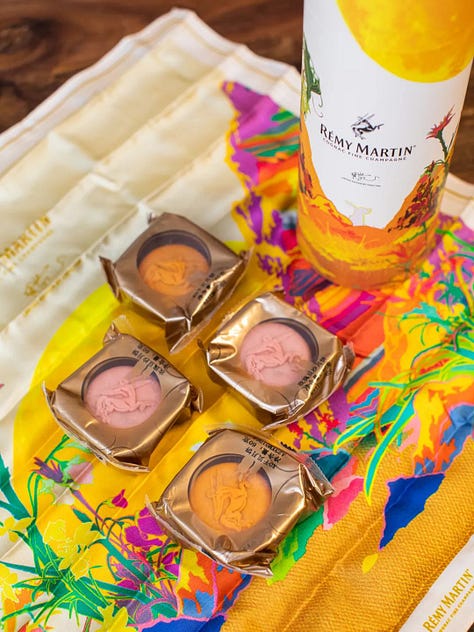 It's no news that every brand would love to nurture a young audience, that's why luxury has been working with pop idols, although many of the young people it's trying to influence cannot afford them yet. One tangible connection is, quite reasonably, food.
In 2021, food-related content had been played 24 billion times on video streaming site Bilibili, according to a now-discontinued report by the platform. In 2022, food influencers accounted for 6.5% of all FMCG-related influencers across platforms, wrote Beijing-based consultancy Topklout this year.
I have learned one thing from Taikang Life, though, that in order to connect with a potential audience, one should bind them with food. Maybe I should do that more often with my readers. 🤔
1. When money-pinching becomes trendy 🤑
What happened: Once seen as a retired tradition from previous generations, saving money is recently getting popular among China's millennials and Gen-Zs, who proudly showcase granular applications across every aspect of life.
They eat "hungry men meal sets", lunch at community canteens, wear "Nikes bought from outlets", take on odd jobs including cat feeding, and rent off their apartments by the day during the on-going 8-day holiday. Previously, some were taking full advantage of the concert economy and doing braids, selling cucumbers by the venues.
In the meantime, a slew of hashtags including #describe an instance to prove your consumption downgrade #说一件事证明你消费降级了, #why don't young people like to buy big brands any more #年轻人为什么越来越不爱买大牌 have emerged. The participants of these trends aim to save and earn every little last yuan, and are proud to showcase their success and failures.
Dig Deeper: Not so long ago, there was a time when money saving was seen as unnecessary and stingy, and money-pinchers were portrayed in media as weirdos (look at this group of people who are practicing 'Financial Independence, Retire Early'). After all, what's the point? Chinese economy is going up, every tomorrow is better than yesterday.
When the reality of slowed economic growth and the burst of real estate bubble* kicks in H1, saving becomes more socially acceptable and even encouraged. That could be seen as both an opportunity and threat, and perhaps brands, especially overseas ones, should rethink their marketing message to appear more value-driven because the narrative of 'consumption upgrade' is gone.
(*Real estate accounts for 77.7% of Chinese families' total wealth in 2018, and it decreased to 63.9% in Q4 2022, according to a longitudinal study by Southwestern University of Finance and Economics.)
2. Starbucks' new opportunities (not mooncakes 🥮)
What happened: Starbucks China staff are getting increased pressure to sell mooncakes that few desire, and it's become the butt of jokes.
As a region-only product that's existed for 23 years, Starbucks mooncakes were once regarded as a favorable corporate gifting option. However, rapidly shifting preferences have quickly dethroned them. A similar rhetoric envelops another China-only holiday food item: sticky rice dumplings during the Dragon Boat Festival.
One industry media account reported that staff were expected to meet a KPI of selling 25 sets of mooncakes on the first day they hit the market (priced at 368 yuan for a six-piece set and 478 yuan for an eight-piece set). If they were unable to meet the target, the store managers and baristas would have to buy with their own salary. The two-week-old video is the most-viewed one on Bilibili (> 1.2 million views) when searching for 'Starbucks mooncakes'. On consumer-driven Xiaohongshu, most comments are skewed towards the poor taste, and there are unofficial sellers/staff selling them at a discount.
The contribution of holiday specials to Starbucks China's revenue remains unclear. According to its 2022 annual report, food accounts for 22% of the group's revenue.
In recent years, Starbucks China are notably trying new things including establishing presences of Starbucks Select in hyper-local transportation stations with bottled drinks, opening 14 sign language friendly stores and over 100 pet friendly stores. All of these initiatives have been seen as setting standards in China's 48-billion yuan coffee market.
Dig deeper: Starbucks China is also working hard on new drinks but none has become the talk of town like Luckin's Moutai latte yet. Actually, Chinese consumers have also been complaining about how bad their coffee is.
Starbucks runs the risk of being overshadowed by local competitors if it fails to generate buzz in a manner that resonates with the Chinese consumer. For example, instead of merely upgrading its mooncake packaging to comply with China's latest regulations introduced in September, why doesn't Starbucks explore releasing pet-related products in its pet-friendly stores, or collaborate with pet brands to introduce mooncakes for pets? Alternatively, it could leverage the growing buzz around China's EV surge by partnering with a mainstream local EV brand on charging stations for selected stores, like it did with Volvo in the U.S. and with Yinson in Malaysia.
There's so much Starbucks China can do to consolidate its market leader position, but the company needs to stay local in terms of flavors, presentation and partnerships to stay at the forefront of people's minds.
3. Fifth Generation filmmakers going rouge 🇨🇳
What happened: Over the past six days of the national holiday, two of the three top-grossing film titles were directed the so-called China's fifth generation directors. And they are both seen as 'main melody', a term that describes propagandistic film and TV genres.
Zhang Yimou's crime drama "Under the Light" topped ticket sales with 732.9 million yuan, and Chen Kaige's war epic "The Volunteers: To the War" ranked 3rd with 411.7 million yuan sales, according to Maoyan Pro, a real-time box office tracker under Maoyan Entertainment (1896.HK). The second place was secured by the 4th installment of rom-com "The Ex-Files".
Despite the fact that Zhang's work doesn't revolve around war, but rather focuses on anti-corruption (a common theme of Xi Jinping's party goals), some users on Douban said it appears to be the homework of the propaganda department. One user wrote, "it's even more 'main melodic' than 'The Volunteers'."
Dig deeper: My observation is less about the people but more about the environment that shaped them. After winning international accolades including the Golden Lion and Palme d'Or, they chose a similar path after Xi took the helm in 2012, which coincidentally distanced themselves from the international stage.
The filmmakers under the 'fifth generation' grew up during the cultural revolution and decided to develop their career in China, which already shows that they have submitted to the regime and 'main melody'. Their lives, shaped by policy changes, have led them to center their early work on that, and they don't refrain from state influences. Chen's son, also an actor, decided to relinquish his U.S. citizenship for a Chinese one in 2021.
In comparison, sixth gen filmmakers, who have been praised for their individualistic approaches and have made their names by making edgy movies with human-centered storylines, have been making little waves in recent years.
Jia Zhangke, a representative from the sixth gen, famously remarked on China's censorship in 2014 during a BBC interview after his title A Touch of Sin, a Cannes-winning drama based on several social events involving deaths and social inequity was censored in China:
"I believe the most important force is creative freedom, [only when directors] have titles that are groundbreaking and experimental enough to touch the taboo, the society's space for narratives will become more open."
Neither he nor others say these sorts of things anymore. 🔚