Discover more from Following the yuan
See China through its consumers
Over 1,000 subscribers
🙊 Everyone has a WeWork story and here's mine | Following the yuan
How I got fired, and what I think about it now as an ex-employee, a journalist and a prospective customer.
Writer's notes: This will take you roughly 13 mins to read. (Sorry! I tried to record a VoiceOver but failed because it's midnight over here, but I promise I will try harder next time.)
Where do you think WeWork/WeWork China is going? And do you have a story with your ex-employer? Leave your thoughts below! 🔎
---
Whenever I come across anything about WeWork, most recently the delisting news, I'm reminded of a time in my life when I was fired as a WeWork China employee in 2016.
We're all familiar with the founding story, thanks to a slew of content spin-offs ranging from podcast series to Apple's "WeCrashed." Adam Neumann founded WeWork in 2010 with architect Miguel McKelvey. The startup revolutionized the commercial real estate world and was privately valued at US$47 billion in 2019. After a botched IPO and the sale of its China operations, Neumann departed WeWork with a payout worth US$445 million. The company subsequently went public via a SPAC in late 2021 before the downfall.
The show offered little color into its development in China.
But I'm not here to fill that gap or provide an exposé. I simply want to find closure for that chapter of my life, just as WeWork has sought closure for its own.
Drinking the Kool-Aid 👽
I didn't get the job the traditional way. A couple of years post-college, I was working as a freelance interpreter and translator—a common career path given my degree. I undertook a plethora of short-term gigs across various sectors. On one such occasion, an international corporate insurer hired me. Having caught wind of WeWork's imminent expansion into Asia, the insurer aimed to secure WeWork as a client.
In preparing for the meetings, I delved into WeWork's history and its ambitious plans for China. Spotting an opportunity, I waited for the opportune moment to pitch myself: Given your company's trajectory, surely you'll need interpreters and writers who possess bilingual and bicultural proficiency. Are there any job openings for people like me?
The truth was I had enough of being a freelancer. I want to feel as part of a team and something bigger.
One thing I talked about during the interview is that I loved connecting people and bringing people together. I was hired as an Assistant Community Manager for the company's soon-to-open first China location.
It was a social place to work. We went out drinking, hosted events at bars—a task I genuinely enjoyed. I was content with my role, even though a nagging thought occasionally resurfaced: why was I showcasing office spaces to people?
From Shanghai to New York City 🗽
A couple of weeks later, I was asked to pack my bags for four weeks training in New York City. I was over the moon! I blogged about how ready I was for the next life challenge with the company slogan, which motivates people to "hustle." I was thrilled that a company would care about me enough to send me half way across the world to feel the "energy".
My first day at the Chelsea HQ, the atmosphere mirrored the third episode of "WeCrashed": people from all walks of life are excited to be there, they choose WeWork over their previous professions because this is something bigger.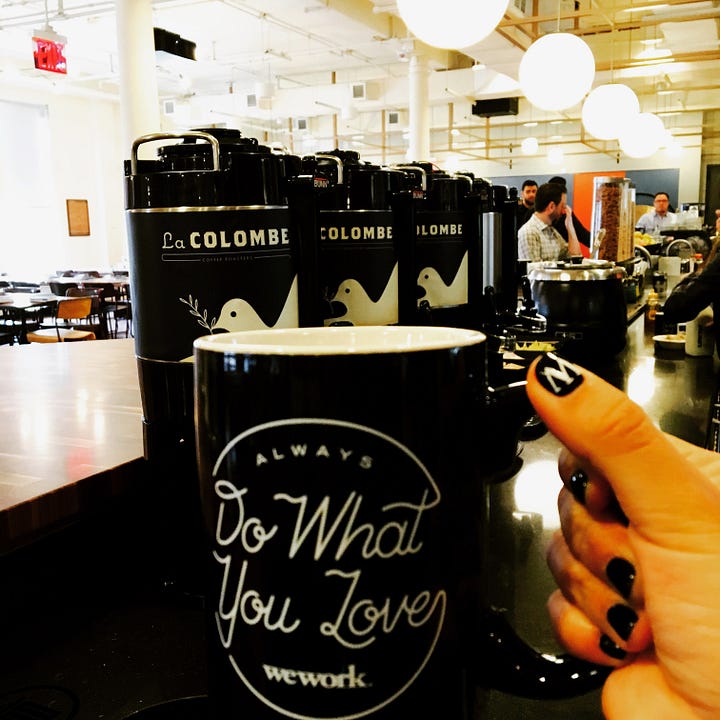 My first week was a whirl of excitement. Among us trainees who have managerial and director roles were people from diverse backgrounds: a pilates instructor, a filmmaker, a Starbucks manager, and me. Our first task? Pair up, pretend to be a company and evaluate a competitor's services.
By the second week, things took a turn. I was stationed at the front desk within the Madison Avenue location. Every day, I spent three hours managing mail and packages for 236 members. The rest of my day was handling calls and sometimes shadowing tours.
Each time I pushed the mail cart around, its wheels squeaking, I found myself thinking, "Is this the 'hustle' I signed up for?"
I knew what my role was. I'd seen my colleague nail these tasks, always chatting and laughing with members. Inside, I felt so out of place and timid as an introvert.
After a few days, my manager sat me down. He pointed out mistakes I'd made, like missing a package during a scan. He mentioned my forgetfulness with phone etiquette and that I didn't seem to be wanting to engage or interact with members.
I left that meeting disheartened. If I struggled with these basics, how would I succeed in this role?
Humans of WeWork 👬
G and I barely interacted during our training. I soon found out he was someone in authority, a 'Director', as I overheard during my first town hall dinner. G reminded me a lot of Mitchell from "Modern Family" - polished, charming, and sharp, with a history of directing boutique hotels.
At the end of the town hall, the crowd was dispersing and I walked past him by the sofa, 'how was your first day?' he asked.
"Well, I'm still figuring out the mail delivery. I made about 5 rounds on a single floor today…" I confessed, my voice trailing with a hint of frustration.
Surprisingly, he shared that delivering mail and packages was his first job when he was 18. He too had struggled initially. But with time and repetition, he not only got the hang of it but also found joy in the process - because everyone wanted to chat with him. "Repetition is key," he reassured me.
One day, M came to my taught me how to change a keg, and talked me what to do when there's a long queue: acknowledge everyone in the queue, show eye contact with the last person, something as easy as that would make the whole difference. "When members come to you with problems, be calm, they are going to remember how you make them feel."
He added, "You don't have to be extroverted all the time. Receiving criticism from supervisors doesn't mean you must accept all of it. They're just in a position to offer that feedback. It's okay to admit, 'I might not be the most outgoing, but I bring other strengths to the table.'"
His words nearly brought me to tears. It was exactly what I was struggling with. I don't want to be a front desk — I'd much rather to be doing something else. The self-consciousness almost made me question why I chose and took the job in the first place: should I go back to the corporate world? Maybe I'm just not a people person at all.
I hugged him when he said goodbye.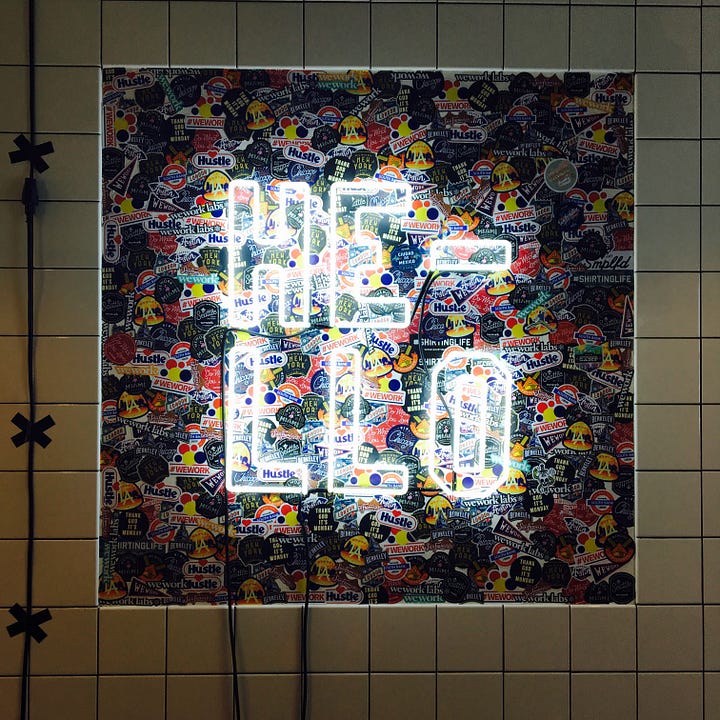 Turn of events 😊
Just when I felt I was teetering on the edge of getting fired, what happened in week 3 turned things around.
My trainer, J, was trying to seal her first contract for what was supposedly the last available office in the building. The clients – an American and two Asian men – had toured the space the previous day and were back for a second look. J was slightly frustrated that they hadn't signed earlier, but still acted professionally.
After 'another look', they walked past the front desk to go to the communal space, that's when I overheard them speaking Chinese. J returned, venting to our manager that they wanted to have another discussion, the manager said he would go give them a nudge. Without hesitation, I chimed in: "I heard them speaking Chinese, I think it'd help if I go introduce myself and nudge them to close the deal." Both of them seemed pleased with the idea, so there I went, through the door with renewed confidence.
"Nihao," I began, breaking into their conversation, "My name's Yaling, and I work at WeWork." Their understanding was immediate. After quick introductions, one of them mentioned, "So, we can't reserve the office until next month, right? We'll sign today then."
The entire dynamics of the situation shifted in mere moments. Post their departure, the manager was ecstatic. He pulled me into a phone booth for a private chat and showered me with praise. Not only had I salvaged the deal, but I had also managed to secure my place in the team with this one act.
At the end of the day ☹️/😃
In my last week there, one quiet morning before the bustle of the day, manager approached me. "Yaling, can I talk to you for a second?" he asked. A sense of foreboding gripped me as I followed him. I knew what awaited.
After our conversation, I had to leave immediately. I kept my composure as I packed up and said farewell to the doorman I'd grown accustomed to seeing daily. Yet, the moment I stepped onto the street, tears streamed down my face.
Since then, WeWork has been following me everywhere. Three years later, I found myself working in the very same Madison building where I was once let go, even running into a former colleague in the lobby. I had a roommate in NYC who worked for WeWork. Last year, in a professional stint in Shanghai, I worked out of a WeWork space. And now, having recently set up own research company, I considered going there again as a member.
For the last few years, my career and mindset has seen shifts, not just in roles but also in my perspective. I've viewed WeWork through the varied lenses of a former staff member, a journalist, and a prospective customer.
As an employee and now working on my own thing, I would want to them to give young staff more room for mistakes and flexibility.
As a reporter, I've never directly covered WeWork. However, having worked out of one of their locations last year, I found it interesting to observe how the new owner in China, growth equity investor Trustbridge Partners, attempted to monetize in every conceivable way. This included selling headhunting services and office furniture. Given China's zero-COVID policy and a weakened business outlook post-lifting measures, it's easy to imagine that demand declined and member churn increased.
The 1-for-40 reverse stock split, set to be effective on Sep 1, may delay the delisting for a while, but not for long, as the troubled company scramble to find a CEO to clean up the mess.
As an entrepreneur and prospective customer, in all honesty, working at WeWork China is no longer aspirational. The TGIM (Thank God It's Monday) free breakfasts, community events, gradually fall flat or disappear; the upbeat, creative atmosphere that Neumann successfully sold to his early landlords and SoftBank's Masa Son was no longer there.
There are now more affordable alternatives with the atmosphere it once embodied. Whether local competitors to co-working ventures of commercial realtors to apartment-turned-offices, many are realizing that they don't need WeWork to remind them to 'do what they love'. And I'm glad that rather than dedicating myself to someone else's mission, I've found my own. 🔚
Thanks for reading! Subscribe/make a pledge today to support my work.
---
One more thing: recently, I went on marketing consultancy WPIC's podcast to chat about China consumer trends. If you'd rather hear me talk about something more upbeat, instead of whining about W, tune in here: