Week #30: Pre-Double 11 questions 🔮, China intensifies censorship measures 🕸️, How Anta is winning over Lining 🏆 | Following the yuan
At this juncture, it might seem that censorship in China couldn't get any stricter. Yet, recent events continue to surprise.
Hi party people! What's the most creative outfit Halloween you've seen this year? Posing as a recycle bin, I felt I got more attention than I deserved. I simply picked an outfit on Taobao, whereas this guy spent two hours crafting the house from "Up".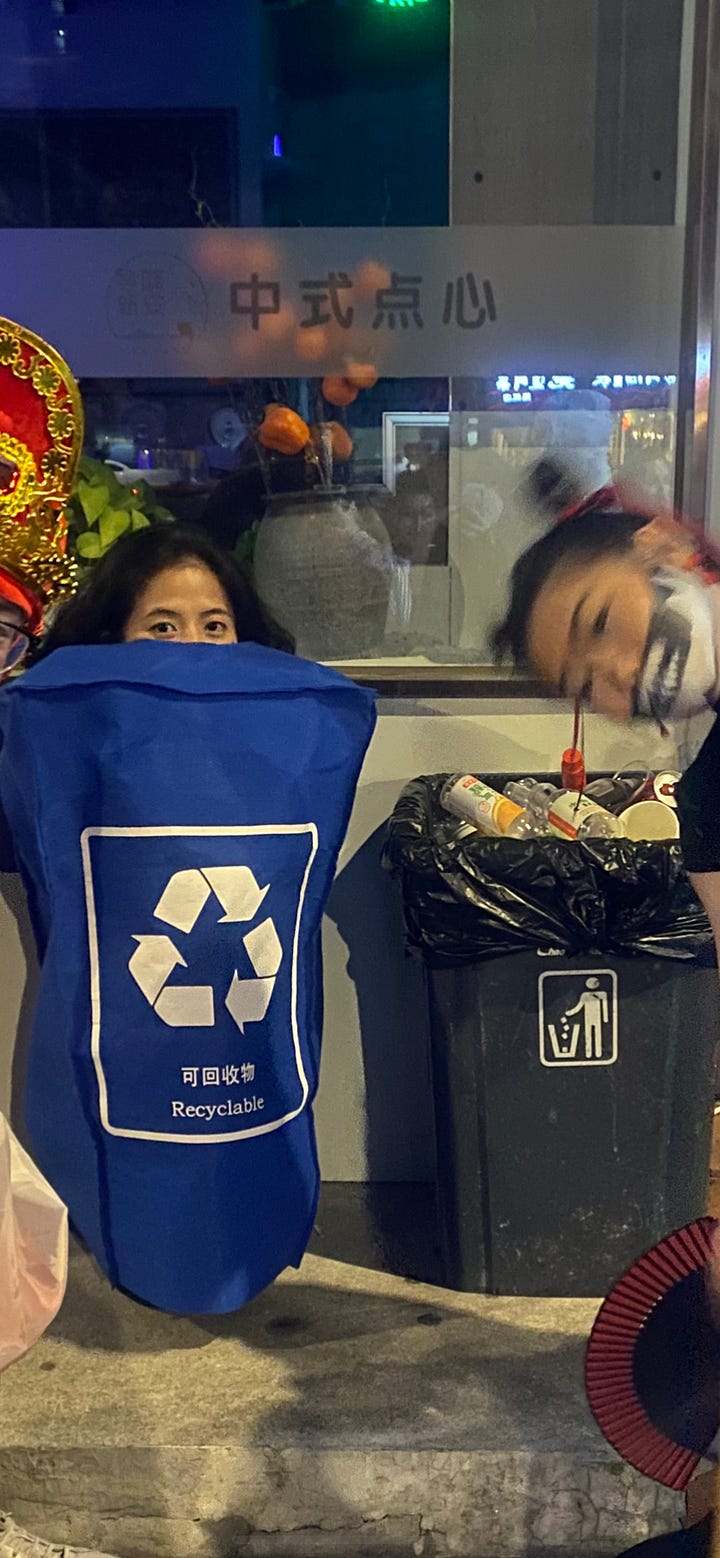 In the meantime, I'm noticing a rise of guochao 国潮 during the Halloween celebrations. Roughly translated to "national hip," guochao is a trend that's been popular in China for the past few years. It integrates traditional Chinese elements into the modern products from food to fashion to beauty.
This week, Chinese lore comes alive with zombies from ancient times, and legendary characters from novels such as "Journey to the West". Many venues are also encouraging people to dress in Chinese costumes.
The weekend celebrations coincide with memorials of former Premier Li Keqiang's death. Outside the club I visited, a girl shouted to the crowd, "There's a memorial for Li Keqiang in Fuxing Park!" before sprinting away. The park anecdotally has biggest dressed up crowds last Saturday. I don't know how that memorial went, but it's known that key words online were censored. We will talk more about that later.
1. Double 11: What to watch for in 2023 🔮
If you ask me, this may be the most interesting Double 11 to date: while the Double 11 story was always about growth, and during Covid, about Covid hit and livestream, this year's Double 11 is full of uncertainty.
Here's a quick recap into what's changed and what remains TBD this year with the world's biggest shopping bonanza, followed by what I'm watching:
Time and scope: Inspired by Black Friday in the U.S., Alibaba's Daniel Zhang first dreamed up Double 11 in 2009. So the e-commerce giant is the Double 11 O.G., but JD.com, Bytedance's Douyin, Pinduoduo, Xiaohongshu and Kuaishou all joined the battlefield for the special promotion period that now spans at least 20 days since late Oct.
Target audience: Zhang's initial target audience was young singletons who are yet to carry the burdens to save up for housing or families, hence the festival's English name Singles' Day. Over time, the event now caters to everyone. Notably, the silver economy is gaining traction this year, with premium beauty products and supplements among the top 3 categories, according to global consultancy AlixPartners.
Mixed sentiment: Post-pandemic euphoria might boost shopping for fashion and beauty. However, a growing weariness towards constant e-commerce festivals and a sluggish economy is evident. Last year, a sketch from Chinese comedian/influencer papi酱 perfectly encapsulated the fatigueness: people are tired of seeing promotions and they're clutching to their wallets, yet companies and discounts follow them around like ghosts.
Questions:
Livestreaming Controversy: With rising criticism and regulatory rumors, coupled with top streamers like Li Jiaqi under scrutiny, how will the livestreaming domain evolve? Who will be the next major influencer?

E-Commerce Rivalry: As Douyin, TikTok's sister app, challenges existing e-commerce giants, will the status quo of Taobao, Tmall, and JD.com remain unshaken? How will PDD and Douyin compare in this race?

Demographic Shifts: China's declining birth rate and aging populace are transforming the e-commerce sector. Predictions by China Research Center on Aging show senior consumer potential might reach 40.69 trillion yuan by 2050. What will be their current contribution to Double 11? How does their spending compare to millennials? And what are the younger generation's preferred gifts?
2. China further tightens top-down censorship rules 🕸️
What happened: At this juncture, it might seem that censorship in China couldn't get any stricter. Yet, recent events continue to surprise.
Keep reading with a 7-day free trial
Subscribe to Following the yuan to keep reading this post and get 7 days of free access to the full post archives.