Discover more from Following the yuan
See China through its consumers
Over 1,000 subscribers
Weekly #14: resilient living 🧗‍♀️"US$40 to take over Time Square!"🗽cherry blossom taste like...? 🌸| Following the yuan
Thanks to U.S. company TSX and Taobao merchants, normies in China can "enjoy 15 seconds of fame" on a giant screen in Times Square, and receive a video or postcard of it.
I went to a packed film screening last Sunday and it was a rare moment when I felt connected to the rest of the world from China. This sense of disconnection was definitely exacerbated by Covid and I can't help thinking of my experience a year ago when I was deemed a secondary contact for a Covid case and forced to isolate for two weeks. I felt lonely and depressed, an experience I doubtless share with millions.
The screening was part of Reek Rock, a climbing film festival now in its 17th edition. My feeling of connection came from knowing I was watching the same films as fellow climbing lovers in locations across the globe.
1. Resilient living 🧗‍♀️
There are three films at this year's Reek Rock and the last one, in particular, will stay with me. Resistance Climbing is about a 'jaded' (his words, not mine) American journalist and climbing columnist of Palestine descent who travel to the war-torn region country and rediscover the meaning of climbing.
The past three years have forced everyone to reevaluate what 'necessary' and, by extension, 'unnecessary' mean in modern China. In fact, 'if not necessary, do not…' was a staple term used by Beijing during the zero-Covid era to imply the importance of life and health above everything else. We citizens were, the authorities liked to remind us, lucky to be alive.
Resistance Climbing, put things in context for me. As we ease into old routines (gigs, comedy shows, brunch etc.), those hit by war also need distractions in life. I don't mean to sound trite, but I was pleased by the amount local Palestinians featured in the film and the solace they found in climbing. If you want to support their community, please consider donating to the Palestine Climbing Development Fund.
2. "US$40 to take over Time Square!" 🗽
Once upon a time (like 10 years ago), Chinese companies and the central government were dying to get on the big screens of Times Square. They saw it as a serious muscle-flex, as if to say: hey we've conquered the West.
Things are different now. A new consumer trend is emerging in 2023 thanks to the U.S. entertainment company TSX and its vision for us normies to "to enjoy 15 seconds of fame", as Co-CEO Nick Holmstén noted. Basically, anyone can pay US$40 and upload a 15-second video to the 18,000 sq. ft screen in Times Square.
After some Chinese users bought ads to advocate for giant panda Yaya's homecoming, "US$40 to take over Times Square" has become a hot topic on domestic social media platforms such as Xiaohongshu and Douyin, TikTok's sister app.
Elissaveta M. Brandon, a writer who interviewed Holmstén for Fast Company, wrote in January: "It's pretty incredible that people will pay $40 to broadcast a video they're not even there to witness." Well, Chinese small business owners bridge the gap.
There are filming services on Taobao that for a few hundred yuan will record the video on the big screen and send it on — some are even thoughtful enough to turn the screenshot into a postcard. Seriously, is there anything that's not for sale on Taobao?
3. What does cherry blossom taste like? 🌸
Don't ask me, I don't know. But many Asia-based snack and drink producers do, or at least they pretend to.
Cherry blossom season is usually in Spring, between March and April and it's long been a tradition for Japanese snack producers to accompany the season with some limited-edition flavors. In recent years Chinese producers have followed suit. The flowers are essentially tasteless and this grants companies creative license.
Among the cherry blossom-flavored foods on the market are numerous fruity concoctions including lychee, apple, white peach, and strawberry. Seasonal drinks from Luckin Coffee and Starbucks, however, have not been embraced.
In fact, China's National Health and Medical Commission only officially listed Guanshan cherry blossoms as a new food substance last March, while adding that it's not suitable for infants, pregnant women and those who are breastfeeding due to lack of data to prove its safety. That makes the cherry blossom snack producers prior to this date…questionable. I can't find a credible market size number but we may get one next year, given the rate of growth.🔚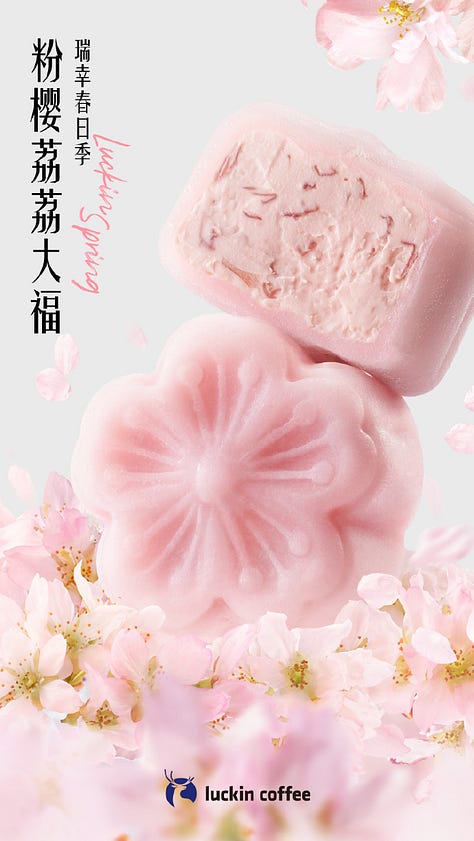 What else I'm reading:
Temples were considered boring and archaic by young Chinese people. But visiting them has recently become trendy. The most popular ones are Hangzhou's Lingyin Temple, Nanjing's Jiming Temple and Beijing's Lama Temple. NetEase Data Blog

10 trends in China's food and beverage industry in 2023, Innova Market Insights via Food and Beverage Innovation Forum, FBIF's official WeChat account

Chinese celebrities returned to fashion weeks in Europe and collectively garnered more than US$49 million in earned media value (EMV= Impressions x cost per thousand impressions x Adjustment variable) Women's Wear Daily
Researcher: Zhuge Rongrong; Editor: Richard Whiddington
Thanks for reading Following the yuan! Subscribe for free to receive new posts and support my work.