Discover more from Following the yuan
See China through its consumers
Over 1,000 subscribers
Weekly #18: TikTok's sister app Douyin becomes a new online travel agency 🛫, when soy sauce meets ice cream and new song meets gym class🏆 | Following the yuan
Are crazy collaborations an opportunity for both sides, or is one 'stealing the rice bowl' from the other, as the Chinese slang goes?
No one wants to read climate news, but it's being thrust into our faces as El Niño intensifies.
It wasn't long ago that I reported with my ex-colleagues at Sixth Tone about the Henan floods, where we reviewed videos and images of people trapped in the subway, and residents losing their loved ones to a disaster that no one could foresee.
Two years later, as we endure the hottest summer recorded on Earth, the floods in Beijing, Tianjin, and Hebei province, caused by heavy rains from Typhoon Doksuri last week, have taught me again how fragile the world is.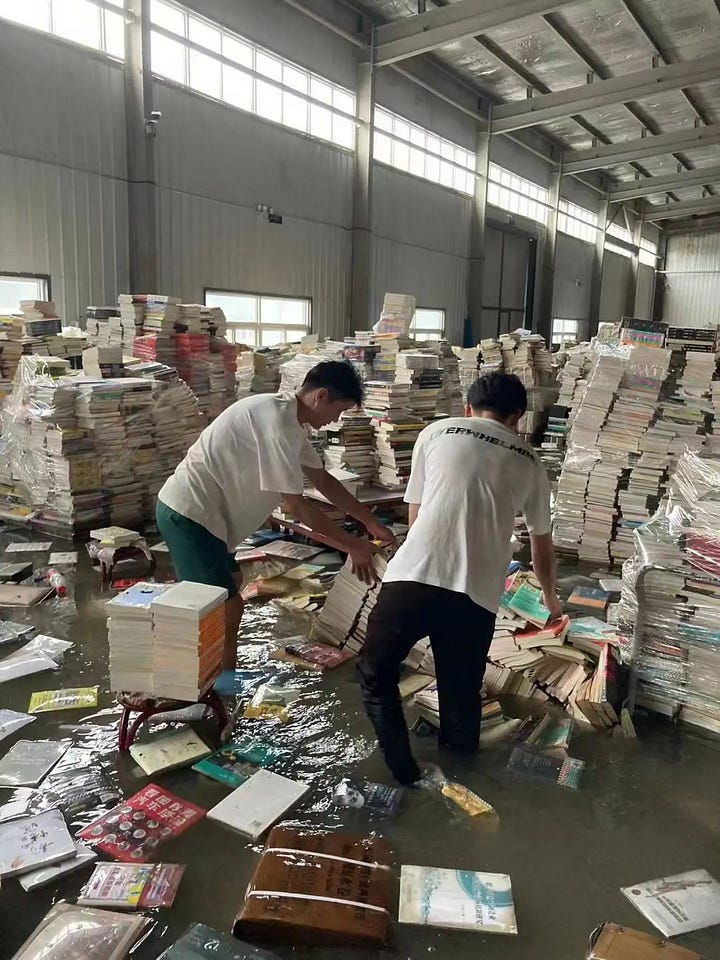 "The level of floods in Beijing, Tianjin, and Hebei could exceed that of the Henan floods [in 2021]," said HAO Nan, the head of Zhuoming Info Aid, a social organization created to aid the exchange of info amid natural disasters. [If you or your friends are proficient in Chinese and want to help remotely, you can scan the poster and become a volunteer.]
1. Douyin and New Oriental becomes the new OTAs 🛫
The Events: After several phenomenal tourism marketing successes from Zibo BBQ to Shijiazhuang rock festival, this month sees a slew of new media companies entering tourism.
Social media platforms including TikTok's sister app Douyin and ex-education company New Oriental's livestreaming platform East Buy Holding both recently jumped on the bandwagon.
Last week, Douyin Group (HK) Limited's subsidiary in Chengdu registered a tourism agency. Previously, Douyin Lifestyle Services has already worked closely with the tourism and hospitality sectors, introducing supportive policies to assist businesses in promoting themselves on the platform.
Furthermore, New Oriental (NYSE: EDU)-owned East Buy Holding has expanded its business operational categories to include tourism development project planning, intangible cultural heritage protection, ticket agency services, and more.
Dig Deeper: Douyin joined the league after working closely with the sectors after learning the ropes and understanding the shortcomings from the traditional players.
Their intentions may go beyond disrupting the latter, as they are also making a move towards challenging online travel agencies (OTAs) like booking.com and trip.com. Short-video media and livestream platforms have become increasingly relevant in every sector, considering that attention sells every thing. Didn't Viya, once deemed as China's livestream queen before being canceled for tax evasion, successfully sold a 40-million yuan rocket before?
2. Eye-popping food and beverage collaborations 🦄
The Event(s): In a competitive market, players in saturated sectors are constantly looking for ways to win the new audience's attention. And in food and beverage, they do that by marrying flavors or products that are hot and relevant.
China's popular tea chain Nayuki recently announced its collaboration with the food delivery platform Ele.me and the beer brand Tsingtao to launch the "Beer Festival Limited Milk Tea" in Qingdao. The 16-yuan drink, which is available on Ele.me in the coastal city, includes a combo of a gardenia green coconut milk tea, a small bottle of Tsingtao Beer and a sticker.
In a similar vein, China's largest soy sauce maker Haitian recently announced plans to launch its ice cream pop-up stores in Guangzhou, Shanghai, Chengdu, and Changsha. One can enjoy soy sauce-flavored ice cream by mixing in roasted soybean flour.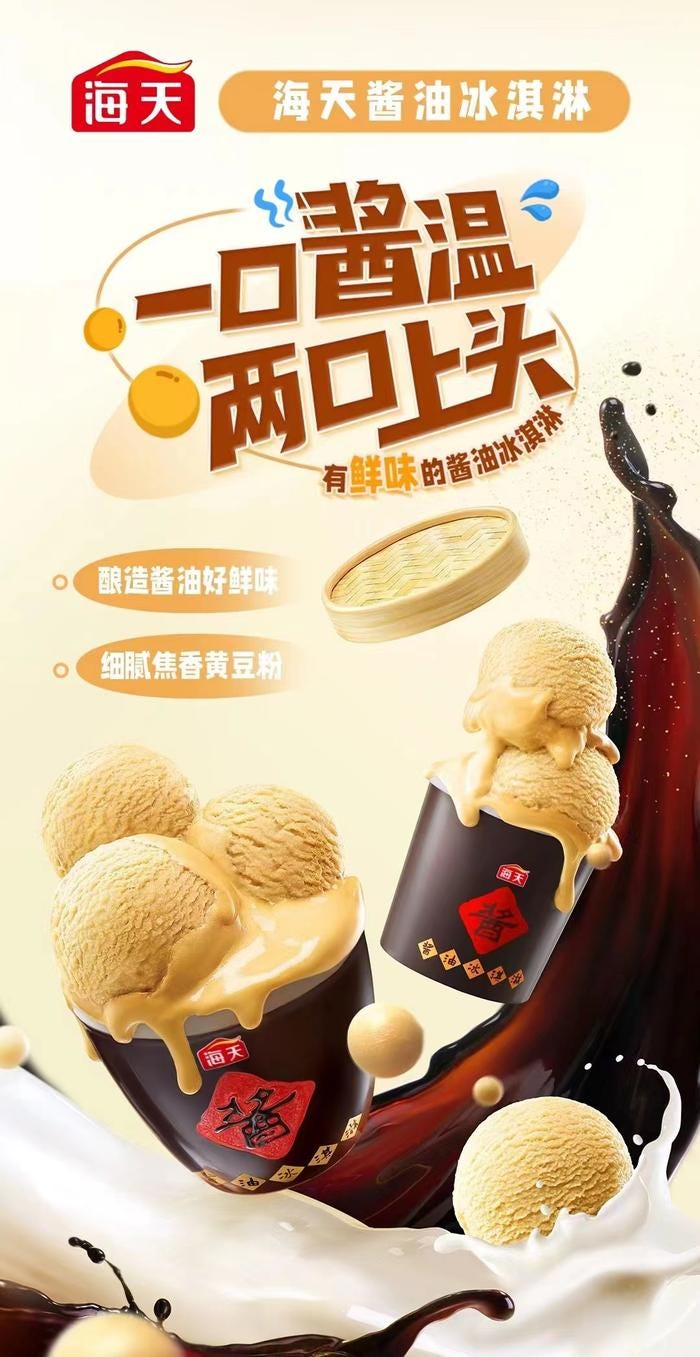 Dip Deeper: "We estimated that the beer sector won't have material growth in China, and it's rather saturated," said Shirley Zhu, IWSR'S Research Director for Greater China, at an industry conference last week. "But we are confident in the development of premiumisation of beer."
From the business perspective, there is some commonality between the said marriages, as in both beer and soy sauce are rather saturated.
At the same time, the bar for collaborations in any consumer sector is rising, and it's becoming more difficult to bring the 'wow' factor. Hence we are seeing the collaborations that would be anti-instinctive, and there would only be more in the near future.
2. Entertainment marketers are finding new ways for promotion 👩‍🎤
We've just witnessed some cross-collaborations in the beverage sector that leave you in awe. In the entertainment industry, marketers are also exploring innovative ways to make music, bands, and celebrities go viral.
Meng Jia, a singer and former K-pop girl band member, teamed up with the fitness chain Supermonkey to promote her new single Fanning the Flames《煽风点火》. For the past two weeks, Supermonkey members could book a dance class featuring the same choreo from the song [see the dance below]. Participants were also encouraged to share their own videos to Xiaohongshu and Douyin. The classes were available in seven cities, including Beijing, Shanghai, Hangzhou, and Wuhan.
Similarly, Blackpink collaborated with Starbucks to launch a strawberry and chocolate Frappuccino drink and merchandise, but this was only available in limited Starbucks stores in Asia. Mainland China stores were not included in this particular promotion.
Dig Deeper: Absolutely, the rule mentioned earlier applies here, but the Meng Jia case study also exemplifies the principle of 'meet them where they are.'
Amid the larger fitness trends, numerous white-collar professionals are embracing dance as a means to relieve stress or participating in dance studios to record videos. This presents an excellent opportunity to connect with existing fans and, ideally, attract a new audience that is well-versed in social media.🔚
👉 One more thing before you go — I'm organizing some panels + workshop as part of the program of NFT Hong Kong on Oct. 31, which will be promoted throughout Hong Kong FinTech Week (30 Oct - 5 Nov 2023). If you'd like to speak or participate as a sponsor, reply to this newsletter or DM me!
Thanks for reading Following the yuan! Subscribe and make a pledge to support my work.
Read more: