Discover more from Following the yuan
See China through its consumers
Over 1,000 subscribers
Weekly #13: Mainland China-Taiwan trade 😢, the end of panda diplomacy 🐼, Epic fail of women's day marketing🙎🏻‍♀️ | Following the yuan
I doubt that pandas would continue to be a diplomatic tool given they're high maintenance and the Chinese public's likely deterrence. P.S. What else I'm reading, SVB edition
Let's dive right in.
1. China mainland-Taiwan sanction 😢
Last week at a night market in Shanghai, I made an impulse purchase: a bottle of Kavalan, a prize-winning whisky made in Taiwan.
I got chatting with the sales representative, who set up a stand next to a makeshift swing dance venue. I told her I'd written about the rise of whisky in China, but hadn't included Kavalan to avoid politics.
She opened up about Kavalan's awkward situation. Basically, Mainland China is one of its major target markets, but the brand has to adapt its image and wording for political considerations. Two things stood out to me:
Shipping has been halted for several months and there is no news on when it will restart. Some Kavalan products are sold out at its five Shanghai stores.

Labeling rules have become stricter for Taiwan brands. All Kavalan products are patched with a "Taiwan, China" label before being sold on the mainland.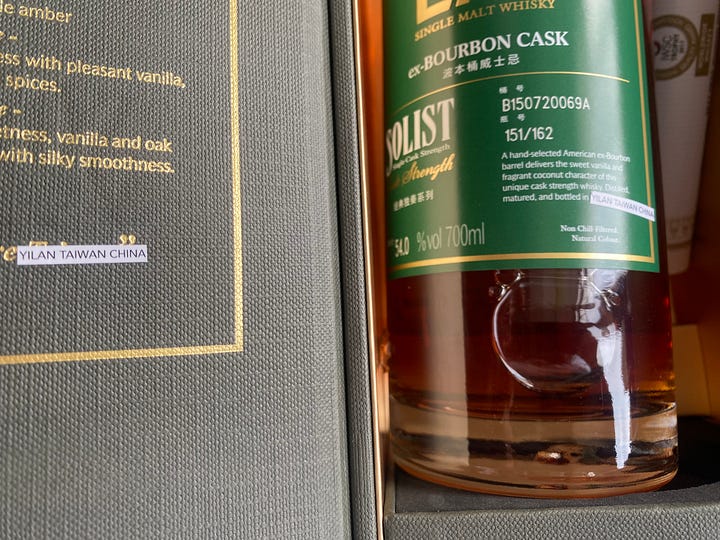 This is just the tip of the iceberg for goods from Taiwan, which also include Taiwanese pineapples, wax apples and grouper fish. Sanctions and labeling rules became visibly tighter around the time when former speaker of the House Nancy Pelosi visited Taiwan last August.
The latest statistics released by China's General Administration of Customs in Jan show that in 2022 the cross-strait trade volume was around US$320 billion, a year-on-year decrease of 2.5 percent. China imported US$238 billion from Taiwan, which despite a year-on-year decrease of 4.6 percent, still made it the largest trade partner.
2. The end of panda diplomacy? 🐼
Even before the PRC was founded, China has sent giant pandas overseas as a diplomatic tool to strengthen bilateral relations. It works like this: as a sign of good diplomatic relations, China loans a panda(s) to a zoo which pays an annual fee (sometimes up to $1 million) often on 10-year contracts. A soft (and cuddly) power tool par excellence.
Now it's uncertain whether this tactic will continue.
What happened: in early February, Lele, a giant panda living at the Memphis Zoo in Tennessee, died suddenly at 25 (that's around 80 in human years). Although preliminary investigations indicated that the cause of the panda's death was heart disease, certain members of the Chinese public accused the US zoo of intentionally mistreating the panda due to anti-Chinese sentiment.
Over the next few weeks, calls grew on the Chinese internet for the Chinese government to take back Yaya, another panda from the Memphis Zoo. The Chinese Association of Zoological Gardens announced on March 8 that Chinese experts will arrive in the U.S. this week to take Yaya back.
What's business got to do with it: Brands and companies don't want to miss the opportunity to show their loyalty to the country or its 'national treasure'. Domestic personal care brand Bee Flower 蜂花 and large juice producer Huiyuan Juice 汇源 both thrusted themselves into the Weibo trending list by showing their wish to adopt Yaya. Huiyuan quickly decided to adopt a China-based panda after netizens questioned its sincerity.
What to watch: Will pandas continue to be a diplomatic tool? I doubt it. For one thing, pandas are expensive. In addition to the loan fees, zoos are required to supply up to 40KG of fresh bamboo per panda per day, bear in mind that not all countries have that. Multiple zoos including the ones in Malaysia (2018), Scotland (2021) and Finland (2023) have wanted to their return pandas because they cannot afford the costly child support.
Moreover, after the events with Yaya and Lele, the Chinese public may dissuade Beijing from sending pandas abroad for a while. If so, it will be one of the few times that officials pretend that they are moved to act on the will of the people.
3. Epic fail of women's day marketing 🙎🏻‍♀️
Every year around this time, you should keep your eyes peeled for marketing missteps.
International Women's Day (March 8) may not be the global event it perhaps deserves to be, but in China it's a big deal because of the undisputed spending power of women. The group is more willing to spend and spends more, according to data intelligence platform QuestMobile's Jan 2023 report.
Surprising, both of the big marketing missteps this year came from domestic brands: beloved local athleisure brand Maia Active and Hao Huan Luo 好欢螺, an instant rice noodle brand.
Maia Active deleted its social media campaign on WeChat, titled "Shut Up", an hour after posting on Mar. 8. In it, Maia seems to want to encourage everyone to listen to women instead of telling them what to do, but the key messages are way off the mark. Some consumer thought the brand want them to shut up…some said Maia shouldn't have used '3.8', which resembles the sound of a slur for women.
What's safe to do: Hand the power back to its consumers! Always remember to be in line with the goal of diversity and inclusion, while giving consumers the agency to make their own choices. Some good cases include Australian cosmetics brand Aēsop which held a 'Women's Literature Library' event in Shanghai for a week, and the Chinese underwear design brand Neiwai 内外 which joined hands with dancer Mengke Wu to launch a short film Ten Questions about the Body.
What else I'm reading, SVB edition
:
24 hours of China's VC and start-ups world after the fall of SVB tech publication 36Kr's investment vertical Waves
A Xiaohongshu user said that she found her new job hanging by a thread after studying in the U.S. for 8 years
Tianjin-based Jiuan, which is under iHealth's name in the U.S., did not lose its US$600M cash flow at SVB The Paper
Researcher: Zhuge Rongrong; Copyeditor: Richard Whiddington
Thanks for reading Following the yuan! Subscribe for free to receive new posts and support my work.