Discover more from Following the yuan
See China through its consumers
Over 1,000 subscribers
Weekly #11: top yoga chain went bust 🧘‍♀️, fried chicken literature 🍗, pet economy goes mainstream 🐶😼 | Following the yuan
Food is the love language for many Chinese families, and sometimes that yields a strong bond with a fried chicken producer.
This week I brought my dog Jiang Xiaobai to Shanghai from my home city. 
As a terrier mutt accustomed to life on a spacious compound, he has limited exposure to other dogs. His only acquaintances are Little Bear and Bobby, the latter a sneaky Yorkshire Terrier who stole his toy two years ago. Naturally, Xiaobai hasn't played with him since. Little Bear play fights with Xiaobai, but only because he knows my mom will give him a treat. 
As a small town mutt with few doggy friends, he was shaking at the sight of so many well-preened purebreds at the Muji Pet pop up I took him to last week. I can empathize, I was daunted when moving to the big city of London for college, peeing myself with nerves wouldn't have been out of the question.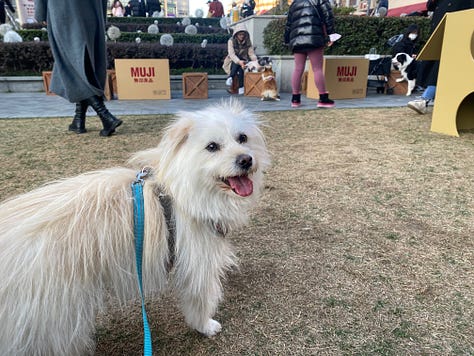 I'll get back to my very small place in the pet economy later, but first let's dig into some of the week's headlines. 
1. China's top yoga studio chain goes belly up 🧘‍♀️
Over the course of 20 years, Fine Yoga became one of the country's biggest studios with presence in 15 cities. Then, seemingly overnight, the brand had collapsed. The catalyst appears to have been the unrelenting questions directed at Fine Yoga via Xiaohongshu, a social e-commerce platform. 
Disgruntled customers asked why their local studio had been closed and instructors complained that they hadn't been paid in months. Once Jiemian, a Shanghai-based news outlet, reported the online discontent, the game was up. Rao Qiuyu, Fine Yoga's founder, apologized via the company's social media to "members, employees, everyone who I owe money to and those who care about Fine Yoga." The pandemic, she wrote, had wrecked the business. 
The industry landscape: China's yoga studios are highly dispersed. There are 42,350 nation-wide with 14.5 percent in first-tier cities (Beijing, Shanghai, etc.), a quarter in 15 'new' first-tier cities (Suzhou, Chongqing etc.) and 60 percent across the rest of the country, according to a 2021 China Yoga Industry Report. 
The larger problem: The traditional business model in China's fitness industry involves signing customers onto pre-paid memberships and the report notes that studios struggle to attract and retain members. Trainers often double as salespeople which can negatively impact the customer relationship. This pressure to sign up is something I've experienced multiple times at gyms in China, perhaps a story for another time.  
2. Fried chicken literature 🍗
I cry easily. Worst of all, I cry at ads. The Farmer's Dog Super Bowl ad made me cry (four times, or whenever I watch it) and more recently the Wallace literature I read made my eyes well up. 
What's Wallace you ask? Only the Chinese fried chicken brand with the largest market share. It offers those from lower-tier cities Western food at affordable prices and with 20,091 outlets it has more than KFC, McDonald's, and local competitor Dicos combined.  
Ok, so what about that literature? 
Q&A platform Zhihu recently saw a question about Wallace go viral. The context is that…ahem, with a franchise model, many Wallace restaurants have reported food safety issues.
The question: So many people get diarrhea after eating Wallace, why don't you complain but leave it as the butt of the joke?
One of the top answers: "Our family has a lot of kids and Wallace used to offer three burgers for 10 yuan ($1.44). The promotion was on a specific day, I think Thursday. I used to live with my grandparents and whenever there was a Wallace promotion my mom would pick me up from school and take me for a burger…I get to stay with my mom [on that day] and get to hold her all night."
Food is the love language for many Chinese families. If international chains get better at understanding this, instead of launching silly collaborations (such as using Peter Rabbit to endorse beef burgers), they may have their own viral literature moments too. Hold on, KFC does have it. 🤔
3. Pet economy goes mainstream 🐶😼
We may soon have a major shopping holiday, one devoted to pets. Last weekend, Muji debuted its pet gifting festival ("宠爱礼物节") called 225, which the company believe sounds like 'love love me' from the perspective of a canine, on February 25.
It was a three-day pop up in Shanghai and featured new products (bowls, bean bags, toys, snacks etc.). I took Xiaobai and judging by the good foot traffic, Muji might be onto something.  
In China, marketing trends are led by luxury fashion brands. We are seeing an increasing number of designers launching pet accessories, now it's finally time for a China-first initiative for pets; it signaled the mass adoption of pet marketing. 
This is just the beginning and it seems quite possible that if big consumer brands follow along, we will soon be talking about 225 in the context of 520 (a made-up Chinese Valentine's holiday) and the world's largest shopping bonanza Double 11. 
Also of note is Muji's sales strategy. In the report on state media China Daily, its primary selling channels are listed as food delivery platforms Meituan and Ele.me, followed by the cohort of traditional online sales channels Tmall, JD.com, and WeChat Mini Program. Last, comes a list of offline locations for the new pet products. 
What else I'm reading this week:
There are a lot of articles on China's digital nomads, but this feature from GQ China delves into the conflicting business and political goals behind the scene. If you only read one piece about the topic, this is it.

Interesting Reports, a lifestyle publication under China Newsweek, wrote that Chinese men don't want to wear suits anymore, judging by domestic business wear's financial results. It coincides with the trend about how Chinese women are ditching their heels.
Researcher: Zhuge Rongrong; Copyeditor: Richard Whiddington
Keep me in your inbox! Or V我50!