Discover more from Following the yuan
See China through its consumers
Over 1,000 subscribers
Crocs, Dr. Martens, Birkenstock: the rise and fall of famous footwear in China
A glimpse into the three brands' history in China's now 450-billion yuan footwear market.
Crocs, Birkenstock, Dr. Martens — these three famous shoes are all on the tip of tongue in China in recent weeks for various reasons.
While Crocs have caught on among young girls, Birkenstock has made a small comeback with its exposure in the Barbie movie, and Dr. Martens was trending in China for a few days due to store closures and clearance sales.
How famous shoe brands came to be in China
I will get back to the less rosy news about the London-listed Dr. Martens later. For now, let's delve into the beginning and what they mean for Chinese consumers. The three brands entered China in different eras: Crocs came in 2006, a couple years before the 2008 Beijing Olympics when China was eagerly welcoming foreign brands, Dr. Martens came in 2012, also enjoying the post-Olympics buzz, and Birkenstock arrived in 2017, during the boom of China's own consumption brands.
Over time, they are given the nicknames 'Mading boot' 马丁靴, 'Boken shoe' 勃肯鞋 and 'holy shoe' 洞洞鞋 for their names and looks. When people mention these names, they have a certain image in mind, and they are not necessarily linked to the original makers. In a way, it's very much like the cerulean scene from The Devil Wears Prada (2006), in which the editor-in-chief played by Meryl Streep described how fashion trends trickles down from top designers.
When you look at China's 450-billion yuan footwear market, including Crocs, Dr. Martens, Birkenstock, it encompasses three sectors from the brand perspective: the real deal, branded copycats, and cheap knockoffs.
Take 'holy shoe' as an example, here are some of the variations in the last two categories: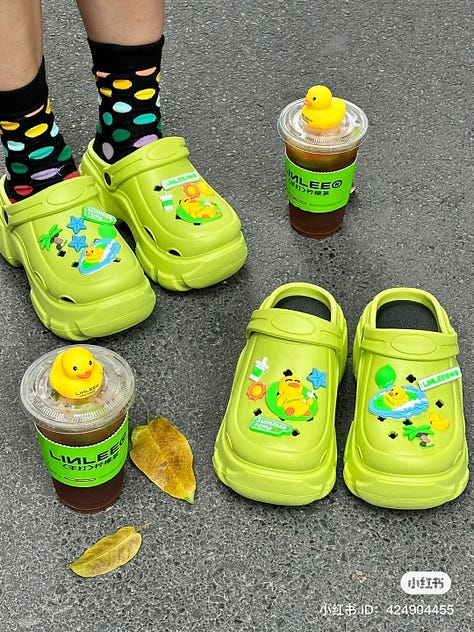 Each of them targets different audiences. The real deal is for customers who care about IP and originality and are less price-sensitive, the branded copycat is for those who like to ride the trend but may prefer domestic brands or be price-sensitive, and the non-branded copycats cater to those who feel the actual price is out of the question, or see the product as nondurable goods.
You can apply the equation to any product with a strong image: Yeezy slippers and sneakers, and going back in history, Valentino rockstud shoes, white sneakers from Common Projects, etc.
The same theory exists in non-Chinese markets, but in China, due to the strong supply chain and result-driven business owners who like to capitalize on the hype, this phenomenon is more prevalent.
Why brands should tell new stories
I never thought that Crocs could come back into trend. I owned Crocs in high school around 15 years ago, a time when the cool girls in my class owned a pair, and as a member of a small clique, I felt the social pressure to ask my mom to buy me a pair. I wore my blue (probably cerulean) Crocs to school almost every day for one semester.
Because of the memories and baggage, I wouldn't give in to the trend now with Crocs clog, but it's a different story with teenagers and college students in modern days. They may know of Crocs as the cool, comfortable brand that did collaborations with Balenciaga, KFC, Justin Bieber, Chinese designer brand Sankuanz, and now, endorsed by top Xiaohongshu influencer Yi Mengling.
And I think that should help inform Dr. Martens's future strategy — instead of reinforcing its history of quintessential Britishness and rebellion, it is ought to create news messages for a new generation of consumers.
The reason why Dr. Martens is trending lately is due to closing third-party stores all over the country. APAC, which includes Japan, Australia, China, and South Korea for the British retail brand, once promised to be the highest growth sector. However, the share of revenue from the region slid from almost a quarter to 13% from 2016 to 2023, with China's market reception being particularly lackluster, even with high-profile celebrity campaigns featuring Song Yanfei and Ouyang Nana.
By selecting young female ambassadors over the past few years, the brand clearly aimed to establish a connection with similar demographics and the consumers of the future. However, the harsh reality is quite different: punk is perceived as niche, both in music and fashion, and is considered an outdated foreign style. None of these perceptions align with the mass market that Dr. Martens is eagerly seeking to penetrate.
Plus, Dr. Martens is not known for comfort like Crocs and Birkenstock, a necessity for post-Covid consumers while the trend of 'chillax' 松弛感 becomes an aspiration in styling and lifestyle.
Celebrity and influencer marketing amplify a brand's understanding of itself in a certain market. When a brand doesn't know what it represents and doesn't have a clear understanding of its core target audience, it really shows. 🔚
Thanks for reading Following the yuan! Make a pledge today to support my work.